PLAN AHEAD – BRIDGE WORK FEB. 25 – 27 
Drivers are advised to plan ahead for traffic impacts Feb. 25 – 27, to accommodate bridge work at the S.R. 36 flyover bridge over I-80. Drivers can expect the following: 
Mon., Feb. 25, 8 p.m. – 5 a.m. FULL CLOSURE

 

I-80 westbound; traffic will be detoured at SR 36 through Grantsville City to reconnect to I-80.

 

Eastbound traffic will remain open.
Tues., Feb. 26, 8 p.m. – 5 a.m. FULL CLOSURE

 

I-80 eastbound; traffic will detoured to the SR 36 off-ramp, reconnecting to I-80 via the SR 36 on-ramp.

 

Westbound traffic will remain open.
Wed., Feb. 27, daytime hours.

 

Rolling slowdowns in both directions; impacts are expected to be minimal.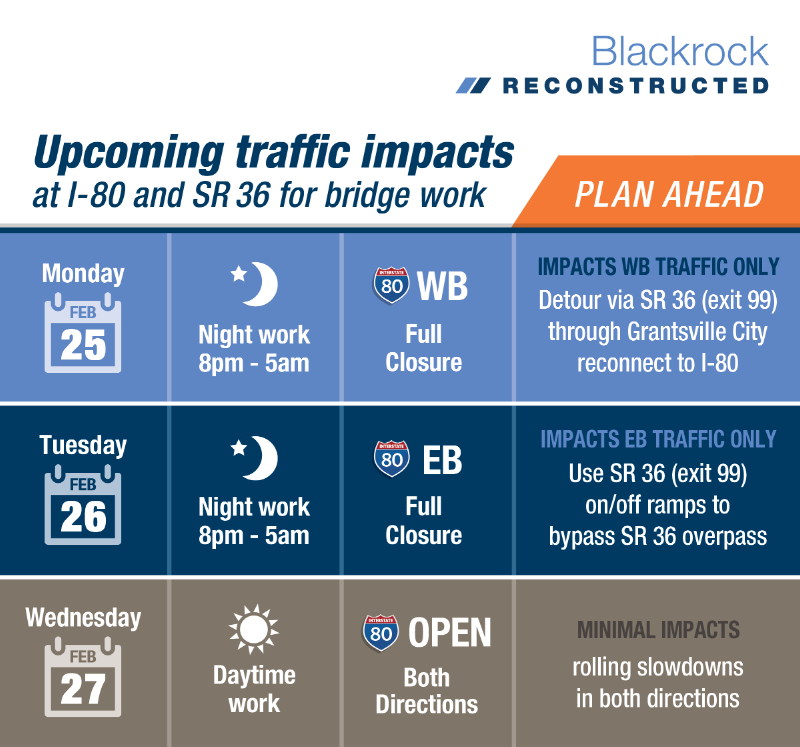 ABOUT THE PROJECT
The Blackrock Reconstructed project is reconstructing three bridges along I-80 as part of our commitment to provide safe and efficient travel for the growing communities in Tooele County.
The following bridges will be reconstructed:
I-80 eastbound/westbound over UPRR
SR-36 over I-80 (Tooele interchange at Lakepoint)