FULL CLOSURE OCT. 25 | EB SR-201 ON-RAMP AT I-80
The eastbound SR-201 on-ramp via I-80 is now closed through Monday, Oct. 21, 5 a.m., for bridge maintenance.
This closure will be in place Friday – Monday around-the-clock (10/25 – 28); EB/WB I-80 will remain open to traffic or drivers can connect to EB SR-201 via SR-202.
The westbound SR-201 off-ramp to I-80 will remain open during this work.
I-80 FULL CLOSURE FOR BRIDGE DEMOLITION
Drivers are advised to plan ahead for a full closure of eastbound/westbound I-80 at the SR-36 flyover bridge on Saturday, Nov. 2, 8 p.m. – 7 a.m., for bridge demolition of the original SR-36 bridge structure. Drivers can expect the following impacts:
I-80 westbound traffic: Traffic will be detoured at WB SR-36 (Exit 99) through Grantsville City to reconnect to I-80.
I-80 eastbound traffic: Traffic will be detoured at EB SR-36 off-ramp (Exit 99), reconnecting to I-80 via the SR-36 on-ramp.
TRAFFIC SHIFTS AT SR-36 FLYOVER
Crews have implemented another traffic shift on the SR-36 flyover bridge as they complete final paving and striping activities. Drivers are advised to note changing traffic patterns and use reduced speeds through the work zone.
The bridge is expected to be fully open to traffic by late-October. Crews will demolish the original bridge structure in late October.
CONSTRUCTION TIMELINE
The Blackrock project is moving into a new phase of construction with the impending completion of the SR-36 flyover bridge and the start of construction on I-80.
A timeline of high-level construction milestones is below for your reference to help you plan ahead.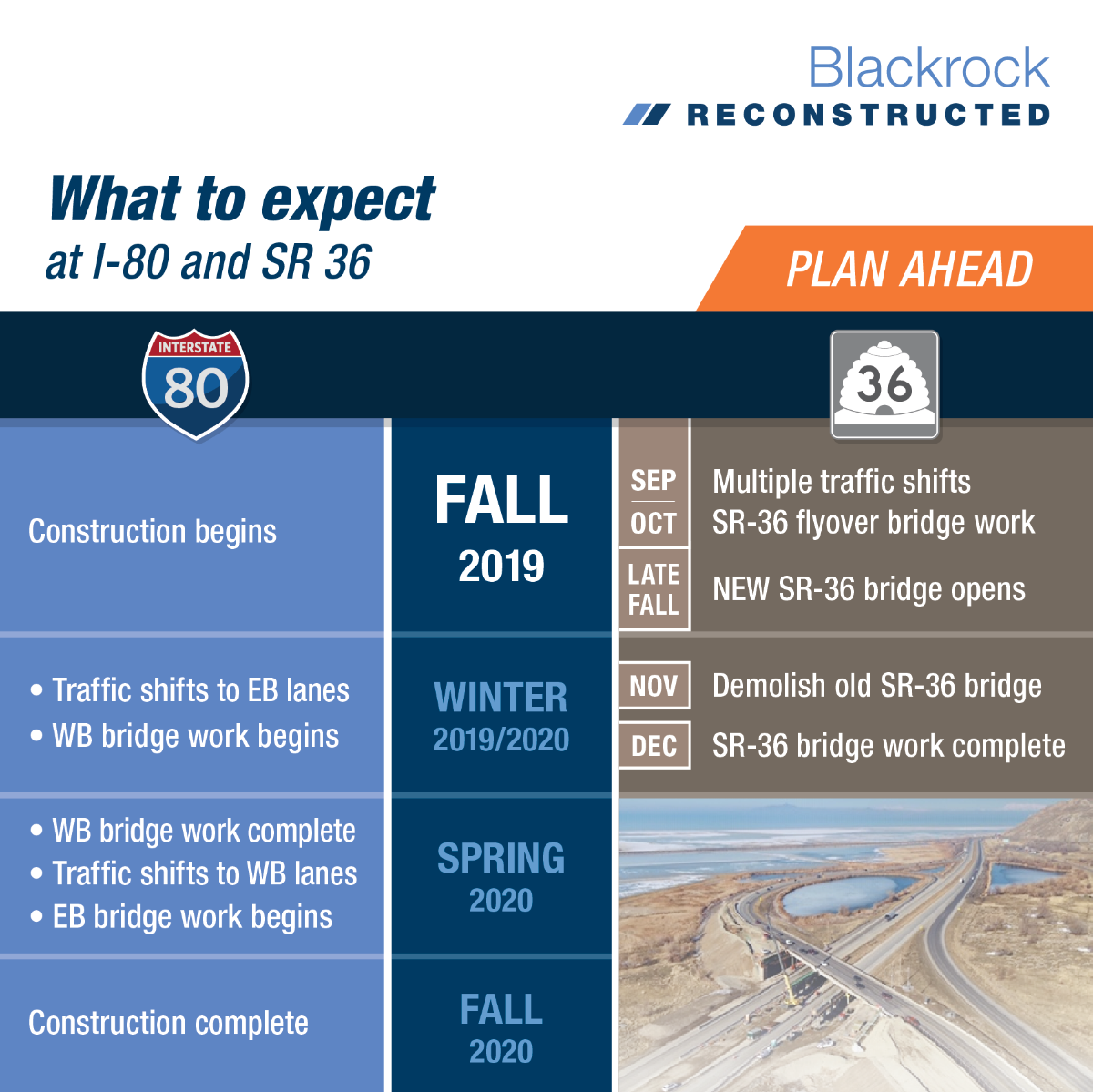 ABOUT THE PROJECT
The Blackrock Reconstructed project is reconstructing three bridges along I-80 as part of our commitment to provide safe and efficient travel for the growing communities in Tooele County.
The following bridges will be reconstructed:
I-80 eastbound/westbound over UPRR
SR-36 over I-80 (Tooele interchange at Lakepoint)